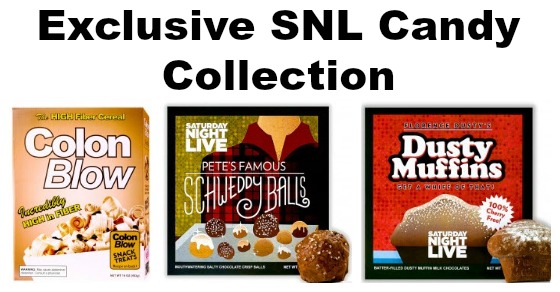 Every now and again I come across some amazing products online that I can't help but share with my friends. This is one of those times. (and if you are looking for a coupon, I have an exclusive one!)
I had never heard of the site IT'SUGAR before, but their Exclusive Saturday Night Live merchandise collection got my attention.
First, obviously, the Schweddy Balls stood out. If you don't know what I am talking about, you can pretty much stop reading this post because none of the rest of it is going to make sense.
If you are looking for a unique gift, you can't go wrong with Pete's Famous Schweddy Balls. You actually have your choice of a few different products including the box of "Salty Chocolate Crisp Balls" or the "Salty, Peanut Butter Malt Balls." Or if you "ever wish you could rub Pete's Schweddy Balls all over your lips," you can just go with the SNL Schweddy Balls Lip Balm (which is on sale for $3.75 and would make a great gag gift).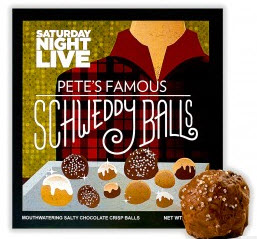 Good times!
Maybe Colon Blow is more your speed? After all, it has 30,000 times the fiber content of a bowl of oat bran. Get your very own box of Colon Blow (which is actually filled with granola).
Remember Florence Dusty's Dusty Muffins? Betty White made a famous appearance on SNL. "I can't wait to taste your muffin!" IT'SUGAR features a 6oz box of cherry free "muffins."
They also have an assortment of different SNL-related products such as the Taco Town Box of gummy tacos, Gilly Peachy Hearts, Super Bass-O-Matic 76 gummies, Hans & Franz Get Juiced, Debbie Downer mints, Super Star Chocolate bars, and a lot more.