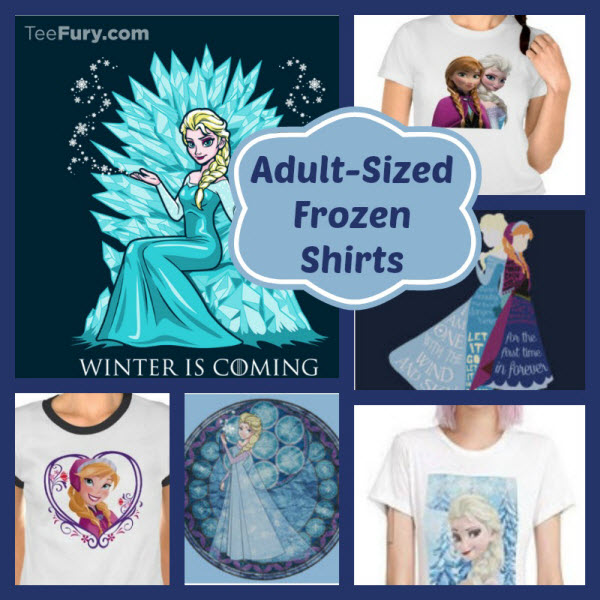 Frozen merchandise has become so hot that it is almost impossible to get your hands on it. In particular, there are very few products for adults. Given that my daughters are both around 5'7, the "youth" Frozen shirts that I have found just aren't going to cut it for our next Disney trip.
Both of my girls are infatuated with Anna and Elsa these days, and I have been having a difficult time finding Frozen shirts in adult sizes for them. Luckily I did find a few (both licensed and unlicensed) that I thought might work. These might not all be available by the time you read this post, but it is a good start!
Disney Store: The first place that I started looking was the Disney Store and was disappointed by their choices. They really didn't have a lot of options overall and especially few for anyone over a toddler size. The one way that I did find shirts there was through the Personalized Shop.
Their shop is actually run through Zazzle so you can go directly to Zazzle as well and might have even more options.
One of the first options there is to choose the Frozen category. You can then choose Tees for Women, Tees for Men, or Fleece for Adults. There are 14 different images in the Anna and Else sections (but also plenty of others of Olaf and the rest of the characters). There were 6 colors available and prices ran around $22-24. Sizes went up to Adult 2X.
Redbubble: If you are looking for unique shirts, Redbubble has some very creative ones. In addition to a couple of the regular Anna and Elsa shirts, they have some stylistic ones that capture the essence of the movie. Because they are not licensed, I have seen shirts disappear from the site before. If you see one that you like, you had better grab it! You can choose from shirts, tank tops, long sleeve, and hoodies. Depending on the style, there might be over 25 different colors. Prices start around $25. They are definitely a little more expensive than some of the others that I have seen, but you are supporting the arts community and getting good quality.
Hot Topic: Although they only have a couple of styles, they are selling out quickly at Hot Topic. On the plus side, they do tend to run a lot of specials so you may get them as low as $18 (or less if they are running any daily coupons). You also may even be able to find one in your local store. Sizes run through 3X (the largest size we have been able to find for a Frozen shirt so far).
Amazon: Although most of what they have is available through other sites, they do have some smaller retailers who are currently selling through them. As more different shirts are made, it is likely that we will see them showing up at Amazon.
TeeFury: If you really want something edgy, TeeFury is the place to look. They are known for cool pop culture references like the "Winter is Coming" Elsa shirt above. You have to check back to their site frequently, though, because inventory is always changing. The second one shown was available one day only. Shirts run $12-18 depending on the day if they are featured.
That's our current round-up of Anna and Elsa shirts that fit adults. As we find more, we will add them.