Easter is almost here, and for many of us, that means it's time to throw an Easter-inspired party. Every year, the holiday of Easter marks the beginning of spring and warmer days to come. Warm days mean fun, family, and food! In this article, I'll share a little about the humble beginnings of the Easter holiday and how it has evolved to be what it is today. Then I'll provide some decorating ideas, recipes, and activities you can plan for everyone to enjoy at your very own Easter themed party!
The celebration of Easter dates back further than most of us know. In fact, human cultures have celebrated the coming of Spring for thousands of years. Every year, during the Vernal Equinox (the one day each year when daytime is equal to nighttime), ancient Anglo-Saxon cultures used to celebrate in the name of their goddess of spring, Eostre. When Christianity spread, they incorporated these celebrations into the resurrection of Christ and the holiday traditions we know today. It doesn't take a huge stretch of the imagination to understand the concept of rebirth and renewal associated with this holiday – the return of warm weather, birds from the south, the growth of new plants, and the budding of trees.
Easter is a holiday both adults and children can appreciate, and in my opinion, there's no better way to appreciate it than to celebrate outdoors in the spring weather. Plan a party either in your backyard, at a park, or even in the yard at your church. Invite everyone and encourage them to bring a traditional Easter dish. Some basics you can include may be braided Easter bread, carrot cake, deviled eggs, chocolate, and cupcakes.
Party Decor Ideas and Activities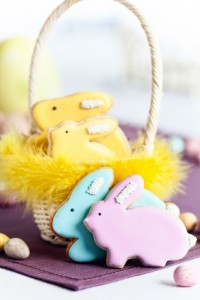 When decorating for the party, use light, pastel colors. These colors tend to symbolize springtime and will help give a fun, easy going feel to the atmosphere. I would recommend using balloons, streamers, banners, tablecloths, and even wall decals you can attach to trees around the outdoor area. You can purchase party supply kits relatively inexpensively and these will include disposable dishes, utensils, and many of the decorations you'll need. (Or go for a more Earth-friendly party by searching for supplies made out of corn starch, potatoes and bamboo fiber. Of course, if it's in the house, use silverware if you don't mind the cleanup. Keep spring clean with a vacuum cleaner!)
Most adults do not need pre-planned activities; chances are, they'll be perfectly content mingling with one another and watching the children enjoy themselves. However, for the little ones, you will want to have some games planned for them. An Easter Egg Hunt must be on the agenda! You could also have an Easter Bunny piñata, an egg/spoon race, Pin the Tail on the Easter Bunny, the Bunny Hop line dance, and maybe even a 3-legged hop contest! There's lots of traditional games available to play.
In the midst of all of this, there will be yummy foods to eat, provided not only by you, but also by your guests. For fun, here's a cute recipe you can try out, which I originally adapted from Kellogg's:
Chocolate Dipped Easter Egg Treats
This is a fun and easy twist on the traditional rice crispy treat.
Here are the ingredients:
3 tablespoons of butter
1 pack of marshmallows
6 cups of rice crisps
1 1/2 cups semi-sweet chocolate
1 1/2 tablespoons of butter (original recipe calls for shortening. I just prefer more natural ingredients where possible.)
Bowl of multi-colored candy sprinkles
Directions:
In large saucepan melt butter over low heat. Add marshmallows and stir until completely melted. Remove from heat.
Add the rice crisps. Stir until well coated.
With greased hands, grab a small handful and shape into eggs. A neat idea is to grease the inside of plastic eggs and stuff them in there. Then carefully pry them out. Cool them all.
In small saucepan combine chocolate morsels and butter. Cook over low heat until melted, stirring constantly. Dip bottoms of eggs into the chocolate. Decorate with sprinkles. Place on wax-paper-lined baking sheet. Refrigerate until chocolate is firm. Enjoy!
Article by Chris Molnar, party Dad and freelance writer. Learn more about Easter party themes at his website, Themeaparty.com. Both his kids have already munched through a couple chocolate bunnies, courtesy of Grandma! He might have occasionally taken a couple bites too.