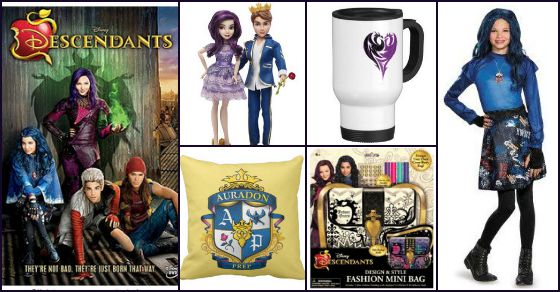 Now that my daughters are getting a little bit older, they don't quite watch as much Disney Channel. I was surprised when they were talking about recording Disney's Descendants. I was even MORE surprised when they loved it so much that they made me watch it a second time with them!
If you haven't hear about it yet, Descendants is a movie that originally aired on the Disney Channel but is now also available on DVD and Blu-ray. Some of the hottest Halloween costumes this year are inspired by the movie. The basic plotline involves children of Disney villains attending school for the first time with children of Disney "heroes."
Characters you need to know are:
Mal (Maleficent's daughter)
Evie (Snow White's Evil Queen's daughter)
Audrey (Aurora's daughter)
Jane (Fairy Godmother's daughter)
Carlos (son of Cruella de Vil)
Jay (Jafar's son)
Prince Ben (son of Belle and The Beast)
The cast includes stars such as Kristin Chenoweth as Maleficent and Kathy Najimy as the Evil Queen. The show was such a hit that a sequel has already been ordered and an animated spinoff (Descendants: Wicked World) will be released September 18.

Descendants Media
Obviously one of the most popular items is the Descendants movie itself. Here are some items to consider if your kids are fans:
Zazzle Personalized Merchandise
Zazzle has an entire line of Descendants merchandise that can be personalized.
You can choose by character, graphics, or patterns. The Auradon Prep Crest is pretty cool for less "in your face" merchandise that teens might want to wear. One of the things I know my teen would love is the Stainless Steel Travel Mug. I had one made for her there last year with Beauty and the Beast on it and she drinks Ovaltine out of it every single morning.
The products at Zazzle ARE officially licensed, so a lot of them have the actual cast pictures on them. These often appeal more to the younger kids or the tweens than the teens.
If the prices look a little higher on Zazzle than other sites, know that they are almost always running coupons of some kind. For example, today they are running 19% off all orders using code YOHOTREASURE. If you don't see a code you want, remember you can always get Zazzle coupons and cash back at Sunshine Rewards.
Descendants Halloween Costumes
Given that we are going to be in Walt Disney World for Halloween this year, I have a feeling that I am going to be seeing a LOT of these costumes! Most of the major online costume stores seem to be selling Mal, Evie, Audrey, and Lonnie. Of course, parents could always dress as the Villain Parents as well, including Maleficent.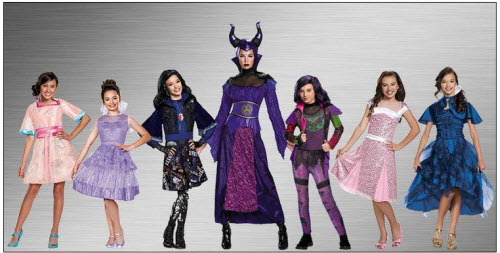 We've created some links to the landing pages of these merchants to help you find them faster:
These costumes are selling REALLY fast. In some cases you can order them but they will not ship until as late as October 24. Because of that, we recommend that if you see one in the size that you need, you order it ASAP.
Toys, Games and Other Fun Stuff
As Christmas gets closer I am sure that we will see even more toys and merchandising than we are already seeing. But here are a few things from Amazon that are kind of fun, especially for younger kids. But if you still don't know what to get your get kids for christmas then check out this guide by MyKidNeedsThat.com.
2-Pack Mal and Ben Dolls (wearing coronation outfits with

mouth grills

included)
2-Pack Evie and Carlos Dolls
Charms & Accessories Collection
Highlighter Set
And one of my favorites, the Design & Style Fashion Mini Bag: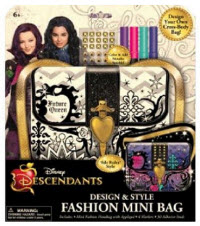 All of those and more are available at Amazon. 
In addition, the Disney Store has its own entire merchandise collection, which includes some of the items above but also others. Some of their unique items include:
Descendants Sticky Notes Set
Descendants Sleep Set for Girls (Pajamas!)
Backpack Tote
The Disney Store collection is actually kind of small compared to what you can get everywhere else, but the pajamas are really cute!
If you are looking for Descendants room decorations, Fathead has a nice selection. (I remember the days of buying Wizards of Waverly Place wall stickers from them!). They have a couple of different sets including all of the Descendants, the Coronation Group, and even Auradon Map Murals.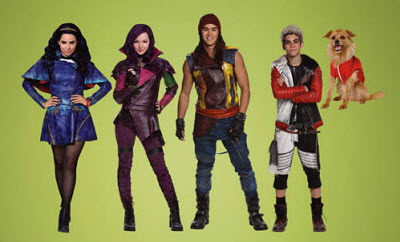 That should get you started on your Disney's Descendants shopping! If you are looking for anything in particular or find something really awesome, let me know!