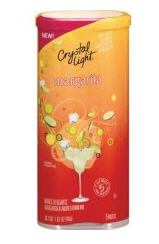 Crystal Light is my daily drink of choice, and margaritas are my drink of choice for post-Zumba girls' night out. So I was ecstatic to see the Crystal Light Margarita mix at my grocery store. It's a part of the Crystal Light Mocktails line which also includes Appletini, Peach Bellini, Mojito, and Pomtini (a couple of those you might have seen on Celebrity Apprentice). 
As soon as I finished up my already-mixed pitcher of pink lemonade, I decided to try out the Margarita. I don't know at what point in my life I switched from liking fruity frozen margaritas to plain lime on the rocks with salt, but that's my favorite. The Crystal Light Margarita did not disappoint! In fact, it tasted so much like a margarita that my kids didn't like it. As I sipped it, I seriously considered tossing in a shot of tequila and salting my rim just to see how genuine it would taste. But that would have defeated the purpose of drinking the low calorie drink.
I will say that I fully intend to mix up a batch some night when my girlfriends are over and add a little tequila to it. It's perfect for when we have Mexican food at home and I am not in the mood for drinking alcohol but still crave that margarita taste. I actually started making two pitchers of Crystal Light now–the margarita flavor for me and the pink lemonade for the kids.
As an aside, I did get the Appletini flavor my husband this weekend. Those are among his favorite drinks but not mine. Not surprisingly, he liked it better than I did. It does have that green apple Jolly Rancher taste that Appletinis seem to have to me. It's not the worst, but I will stick with the Margarita flavor!
You should be able to get all of the Crystal Light Mocktail flavors at your grocery now. If you cannot, Amazon does have them all as well.