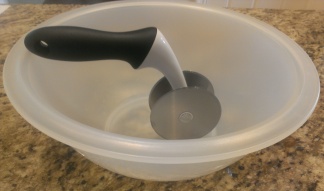 Hot product alert!
I've always loved chopped salads. In fact, my friends often make fun of me when we go out to eat because of how long I spend chopping up my salads. Now with all of the orthodontia in my mouth, I appreciate chopped salads even more.
Did you know Subway has chopped salads? Basically you can order from any of the meat subs and then choose your toppings. I love them! And I was infatuated watching them chop up the salads with their fancy little bowl and chopper.
So I decided to see if I could find one for home. I found one that was sort of similar (the OXO Good Grips Salad Chopper and Bowl) and mentioned it to my husband. Last weekend as a "congratulations for running the half marathon" gift, he surprised me with it!
Yes, it is pretty much a bowl with a double pizza cutter in it. It's so obvious that I can't figure out why no one has come out with them before. But once you use it, you won't want to live without it. It's made just right so that you can chop up salads of just about any size. I've made them myself using a bag of lettuce and the new Lean Cuisine Salad Additions (which I think might be discontinued now or at least are much harder to find). I've poured in salads I got at the local pizza place or Qdoba. I pretty much chop up every salad I eat in it now.
My family was skeptical until they tried the salad themselves. Even my in-laws admitted that the salad was better chopped than un-chopped. You just get so many more flavors in each bite. I think you can also cut back on the amount of dressing that you use when you chop it up (more healthy!).
If you love chopped salads, you must get one of these. I have done the fork and knife method pretty much every week for years. It doesn't even compare. Or consider getting one for someone as a gift. If all else fails, it's a really nice big bowl! You can get the OXO Good Grips Salad Chopper and Bowl for less than $25 at Amazon.
Do you prefer chopped salads? Have you tried the ones at Subway?