If you look at any family photo or group picture of me on Facebook, you will see that I am always the one standing in the back. One of the perks of being tall is that I always have an excuse to stand behind someone else when I am getting my picture taken. If I get a notice that someone tagged me in a picture on Facebook, I drop whatever I am doing and go to look at it to see if I need to untag myself because I look fat.
Last year we bought a picture package at Disney and I was so disgusted by the pictures that I never got a single one printed. There's not a picture in my house of me less than 2 years old–and of that there is only 1. Most of the pictures of me in my house stop around 2007.
When I see myself in pictures, I just get sad. I see the "me" that is on the outside, not the "me" that is on the inside–the "me" that I feel I really am. On the inside I am still 22 and thin and wrinkle-less. Looking at pictures is just a reminder that I am actually 39.9, overweight, and starting to get age spots.
But today I bought a picture of myself.
I paid $25 for a picture of ME! Just me…no kids. No Mickey Mouse. In fact, it's kind of an unflattering picture. I'm wearing spandex and no makeup and am sweaty with my hair in a ponytail. Why in the world did I spend any money on this picture at all and why am I putting it on the Internet for the whole world to see?
Because the picture tells a whole big story. It's more than 1000 words. It's more like a book with multiple chapters.
In January I decided that I really, really needed to get myself back to a healthy place by my 40th birthday. I wanted to lose 40 pounds through eating better and training to run the Indy Mini Marathon. While I only lost 25 pounds (far short of my goal), I DID complete the training. 5 days a week for 15 weeks. I didn't miss a single workout. In fact, I doubled a lot of them and sometimes worked out twice a day. 
If my picture is a book, January was the first chapter. I was sad, disappointed in myself, and wondering if I could ever run 13 miles again. Those middle chapters were the weeks of treadmill time I spent watching Dr. Who on Netflix and pushing myself to run intervals day after day. Those chapters would contain a LOT of names of people who encouraged me in one way or another. Shawn pushed me on DailyMile. Kevin kept me on track of our training schedule. The Zumba girls (Nicole, Michelle, Heather, Danielle, Jackie, Lori, Amber, Jana, Laura, etc) challenged me on FitBit and kept me moving in class. Those were some fun chapters!
The final chapter in the book was race day. I knew I couldn't keep pace with Kevin for the full 13 miles, but he stuck with me until I told him at 6 just to go ahead and go. Instead of freaking out that I was by myself, I felt so free and independent! I ran like the wind, knowing that I would finish it out at my own pace. By about mile 11, I was walk/running and starting to get discouraged. I think I even cried a little. By mile 12 I was even hallucinating about crawling over the finish line. But I was not about to give up.
I did my best through Victory Mile and pushed through my last bit of strength at the Finish Line. I had given all that I could possibly give. When they gave me my medal, I burst into tears of relief. And then I started smiling again and couldn't stop.
And that's when they snapped this picture.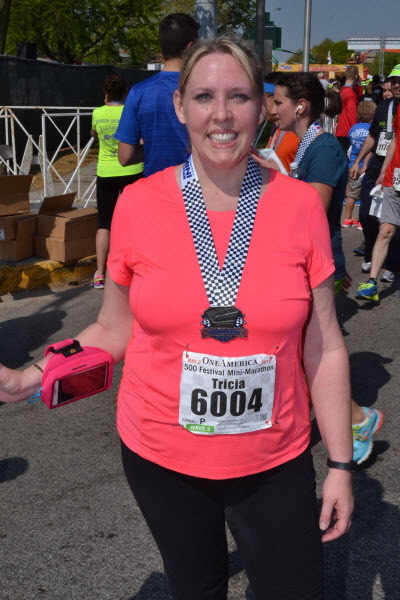 There was no fixing of my hair or striking a cute pose or hiding behind anyone. It's just me in all of my post-race glory. Normally I would pick apart this picture for 100 reasons. But today when I look at it, all I see is what I felt in that moment. That moment at the end of the book where the main character learns a lesson about accepting herself and being proud of the work that she has done. 
So I bought this picture because I want to remember that moment. When I look at it, I want to remember not to be so critical of myself all the time. I hope that if you are reading this far, it's because you also understand (maybe now?) the importance of celebrating YOURSELF and the things that you have worked for. And that a picture doesn't have to be perfect to be perfectly you. 
If the book had a sequel, it would be me on the couch with a heating pad taking ibuprofen and eating breadsticks. But that is a picture no one needs to see.