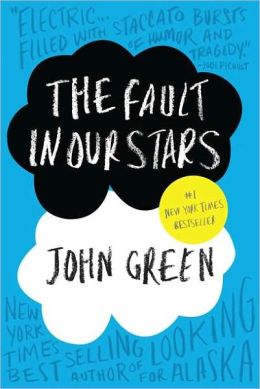 With all of the talk about the movie coming out this summer, "The Fault In Our Stars" (by John Green) is getting a lot of attention. While it's billed as "Young Adult" fiction, you may be wondering what age the book is really appropriate for. The short answer is that it depends on the kid. But here are some things to help you figure out if it is right for yours.
What's In the Book?
The book is narrated by 16-year-old Hazel, a cancer patient who meets 17-year-old Augustus, a cancer survivor and amputee. Although there are some comedic parts of the book, it is definitely more of a love story and drama. Hazel explains in some detail many of the things that she has gone through and we hear from other characters dealing with cancer and loss as well.
As far as the love story goes, it is mainly mild with the exception of one scene that does get a little hot and heavy. There's sex involved but not in graphic detail. It takes place long after feelings have developed and the relationship has progressed. That said, they are still teenagers having sex.
For the most part, the book has achieved much critical acclaim. The one major exception is that The Daily Mail described it as "mawkish at best, exploitative at worst." I didn't even know what mawkish meant, but apparently it means "sentimental in a feeble or sickly way" or "sad or romantic in a foolish or exaggerated way."  I will agree on the "sentimental," "sad," and "romantic" but disagree with the rest (as do most reviewers).
My Opinion
I let my 13-year-old daughter read the book only after reading it myself. She's mature for her age and I knew she could handle both the dark emotions of the characters as well as the love scene. However, I would not recommend it for all 13-year-olds and will not let my 11-year-old read it yet. It's not that there is really any objectionable material but it's more a matter of when a child is ready for the type of material involved. Will they be scared reading about cancer? Can they even understand the emotions behind it all?
If your child is old enough to understand and appreciate the book, I think it was the best book I read in 2013. Whereas most popular Young Adult books are about futurist worlds or "silly" teen relationships, this one is more a story about appreciating life.
The Movie Trailer
For a little extra glimpse into what you can expect from both the book and the movie, check out the movie trailer. The movie is set to be released June 6, 2014.
Have you read "The Fault In Our Stars?" Would you let your kids?