Aren't the first couple weeks of summer vacation great? Your child is happy to get out of bed rather than grumpy. He can't wait to meet up with his friends. Simple things like impromptu picnics in the backyard are a major event that sustain his appetite for fun, all day long.
Then along comes, say, the middle of July-ish. You've known it was coming but you still cringe when you hear the words: "I'm bored!"
(Cue terrified mom's scream.)
Wait! Don't panic. It's not too late to engage your child in something really fun – and to have a good time yourself. These five fun activities are guaranteed to kick the "I'm bored!" blues for you and your child.
1. Have a Water Park in Your Backyard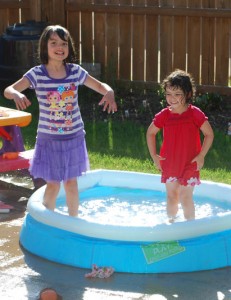 Have your kids invite friends and grab everything water-friendly — it's "water park at home" time! Fill up a kiddie pool, set up a Slip 'n Slide or sprinkler and put down plenty of inner tubes and other soft, waterproof items in your yard. Bring out drinks, treats and frozen pops and let kids have an afternoon of fun. Don't forget the sunscreen, non-slip pool shoes and hats.
2. Take a Hike
If you choose a shady area, you can actually get out of the heat by going for a hike with your children. And of course, hiking is great exercise for everyone. Scout out local hiking trails; check for degree of difficulty and gauge your walk accordingly. (With a very young child in tow, we usually pick "easy" or "easy to moderate."
Pack plenty of drinks, a snack, insect spray, hats and sunglasses. Also bring a spray bottle of tap water so you can spray yourselves down if you get too hot. If you'll be hiking in an area that may have snakes, wear medium height boots. Wear white so you can spot ticks easily. With these precautions, you'll have a great time hiking to a pretty view. Stop there and have your picnic lunch. Fun!
3. See a Show
Local AMC Theatres offers movies for only $2 or $3 per person, including adults, on some days during the summer. Get out of the early afternoon heat and grab a good movie with your kids. Flicks you'll all enjoy: Disney's Brave; The Avengers (for older kids); Madagascar 3: Europe's Most Wanted; Ice Age: Continental Drift; and Diary of a Wimpy Kid: Dog Days.
4. Visit Your Local Library
We only recently found out that our town library has TONS of things for kids to do. And since the children's section is visible on all sides, we grown-ups can grab books down on the adult reading level and not worry.
Your library may have a reading challenge (where you and your children read together nightly to win prizes), story hour, play time and more. Call or go to your city's online site to find info.
5. Have a Neighborhood Luau
Invite kids and their parents to an informal luau. Serve lots of fruits (especially pineapple, papaya, mango and other tropical varieties). Have drinks on hand, but we recommend a non-alcohol party (after all, it is for the kids) — serve adults a fizzy punch made with lemon-lime soda, berry juice and chunks of fruit. Water bottles and juice boxes are great choices, too. Serve ham squares on toothpicks in lieu (ha!) of the actual whole pig. Then all you'll need will be some chips and you're good to go with your luau.
Orientaltrading.com has some very cheap necklaces and leis. Your local party store probably does, too. Pick up a whole bunch and adorn guests as they arrive. Have some fun reggae or tropical music playing. If you have a pool, make sure no one goes in alone and unattended. Or set up a kiddie pool and let kids and adults stick their feet in for some cool fun.
These ideas are so inexpensive (and a few are free). Get your kids involved in the planning; that will kill a few days and change "there's nothing to do" to "this is fun!" in no time flat!
A stay at home dad, Chris is constantly challenged to find things for his kids to do – especially in summer. Luckily, there's a water park nearby, a community center, lots of bike paths to have fun with the best mountain bikes for kids … and when all else fails, we call Grandma! Visit his Facebook page.