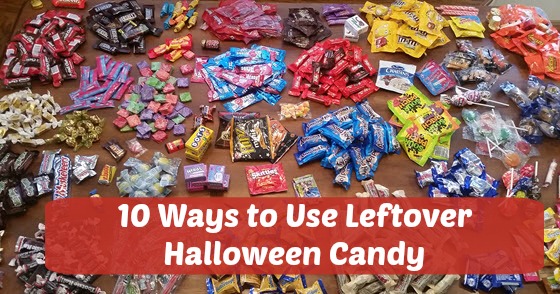 Despite the fact that we only had one kid trick-or-treat this year, we somehow ended up with even more candy than ever before. Between our trip to Disney for Mickey's Not So Scary Halloween Party and my apparent overbuying for our own anticipated trick-or-treaters, we ended up with an entire table full of candy.
As we were sorting through it to figure out what we had, the girls and I started thinking about ideas of what we could do with it. Some ideas were old and some were new. Some I needed to look up recipes for online. Some candies we had so much of that we could make a whole recipe. Others we only had a few of and would have to get more creative. Here are some of the things we came up with.
Note: I found a lot of VERY fancy things to do on Pinterest. I don't have time this week for fancy. So we went for simple!
1) Get Rid of the Candy Altogether. If you just want to get rid of it for a good cause and don't want to find any way to use it, you can donate it to Operation Gratitude or Operation Shoebox. Both have great instructions on their websites.
2. Milkshakes. This is the easiest thing to do with any of the candy and has the most possibilities. The most popular idea in my house was to use the Whoppers with some Ovaltine and ice cream to make malted milkshakes. But we are also considering Reeses, M&Ms, KitKat, and even some of the non-chocolate like Nerds.
3) Snickers Salad. We're trying this for the first time today. I used the Food.com recipe and threw in a couple of other chocolate/caramel candy bars as well to get us to the full amount that we needed and use up some of the other varieties. This is a *must* for people who love caramel apples.
4) Trail mix. Another fun way to use up the "miscellaneous" candy and make it a little healthier at the same time is to turn it into trail mix. You can mix up some healthier snacks like whole grain cereal, nuts, and dried fruit along with small candies like M&M's, Reese's Pieces, Raisinetes, and Candy Corn. Let your imagine go wild tinkering with this Halloween Candy Trail Mix recipe.
5) Rolo Pretzels. If you are lucky enough to get a bunch of Rolos, you can make these Rolo Pretzel Delights. My friend Ashleigh made them for us one Christmas and I fell in love. Save the Rolos for a month and use them to make up a batch of these to use as gifts. I make mine half with the pecan halves and half without.
6) Homemade Suckers. No, I'm not suggesting that you make even MORE candy…rather transform what you already have. When my kids were little, I hated when they got hard candy like Jolly Ranchers at Halloween because they were a choking hazard. I ended up eating all of them myself or throwing them out. This 5 Minute Homemade Sucker tutorial is genius! Not only is it a fun activity for the kids, but it eliminates the issue of the choking hazard.
7) Freeze the chocolate. You would be surprised how long candy lasts in the freezer. Pick out some of your favorites and put them in a freezer bag and push them to the back of the freezer a bit. After a few weeks when the current candy on the table is gone, you'll have more to pull out. It's also smart to pick the stuff that you know you can definitely use later in some of these other recipes.
8) Cookies. Do you have a school or church bake sale coming up or something you need to donate goodies to? There are thousands of recipes for cookies that use different types of Halloween candy. In fact, you can even combine candies for these Trick or Treat Overload Bars or these Loaded Fudgy Candy Bar Brownies. Save yourself the money of buying chocolate chips and use what you already have in your next cookie batch. Use up Butterfinger, 3 Musketeers, Milky Way, Reese's Cups, Nestle Crunch, Twix, and more.
9) Enhance your drinks. Whether your drink of choice is coffee, hot chocolate, or even booze, there are ways to amp it up using Halloween candy. For coffee, consider adding Hershey Kisses to sweeten it up. For hot chocolate, Peppermint Patties or Junior Mints would be great. Want to infuse your vodka? Check out this whole post on Halloween Candy-Infused Vodka (using Skittles, Peppermints, Red Hots, Gummy Bears, and more).
10) Gingerbread House. A great catch-all for everything non-chocolate that you can't figure out what to do with. Great for using Smarties, taffy, gumballs, Twizzlers, and all kinds of other hard candies. Imagine the possibilities for sidewalks, shingles, and house decor!
That's going to take care of pretty much everything on my kitchen table right now. How are YOU using up that leftover candy?